Introduction
A membership at an airport lounge has the obvious advantages of complimentary food and drinks, relaxing areas, wireless internet, and clean facilities. However, a single yearly membership can cost more than $500, and companion memberships can cost even more. The most convenient and economical way to reserve lounge access is through elite travel rewards credit cards.
The American Express Platinum Card and the Chase Sapphire Reserve, two top travel rewards cards with access to airport lounges are highlighted in this article. Both have their networks of properties and allow global access.
Card Glimpses
The Platinum Card from American Express – Without a doubt, this card is the best of the best when it comes to luxury travel perks. It offers the most premium lounge access (any card), statement credits, and complimentary elite status. A graphical representation of the card is given below –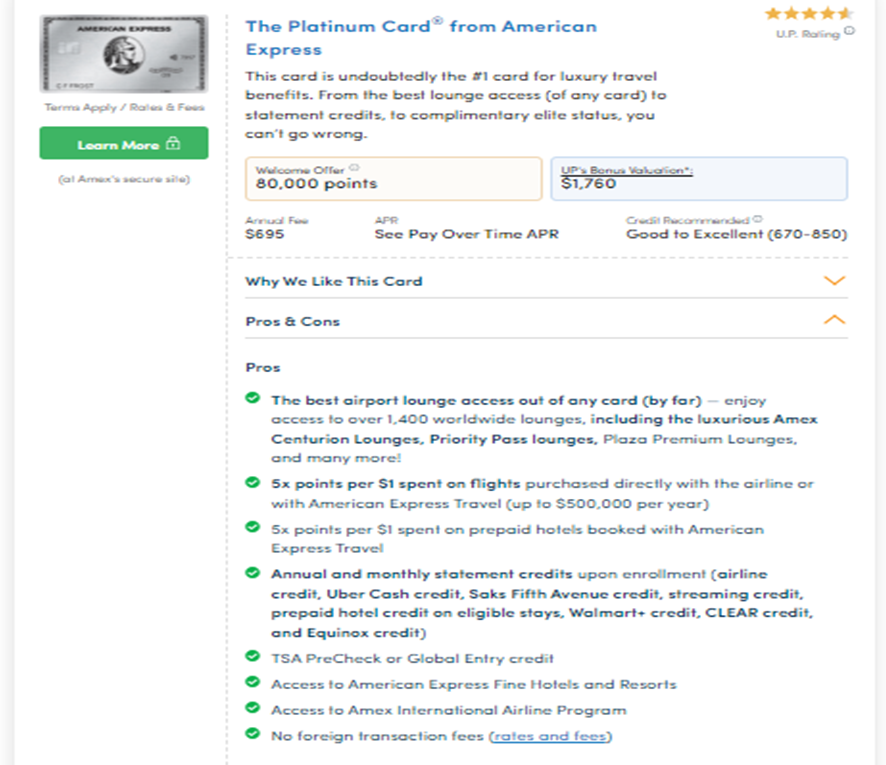 Chase Sapphire Reserve – One of the leaders in premium travel credit cards, earning 3x points for travel and dining with top luxury benefits. A graphical representation of the card is given below –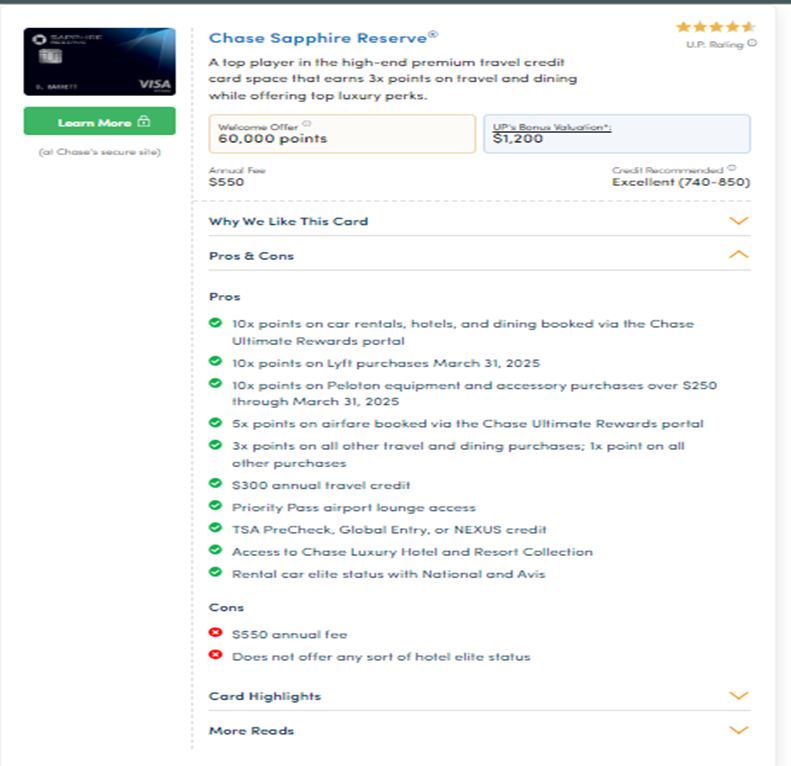 A thorough comparison of the Amex Platinum and Chase Sapphire Reserve cards highlights superior perks.
Lounge Networks – Amex Platinum and Chase Sapphire Reserve cards offer lounge access privileges, with highlighted cards providing more access than others. It's important to note that affiliations can change, and not all lounges in a network may allow entry. To maximize your lounge experience, explore the lounge access choices offered by the highlighted cards.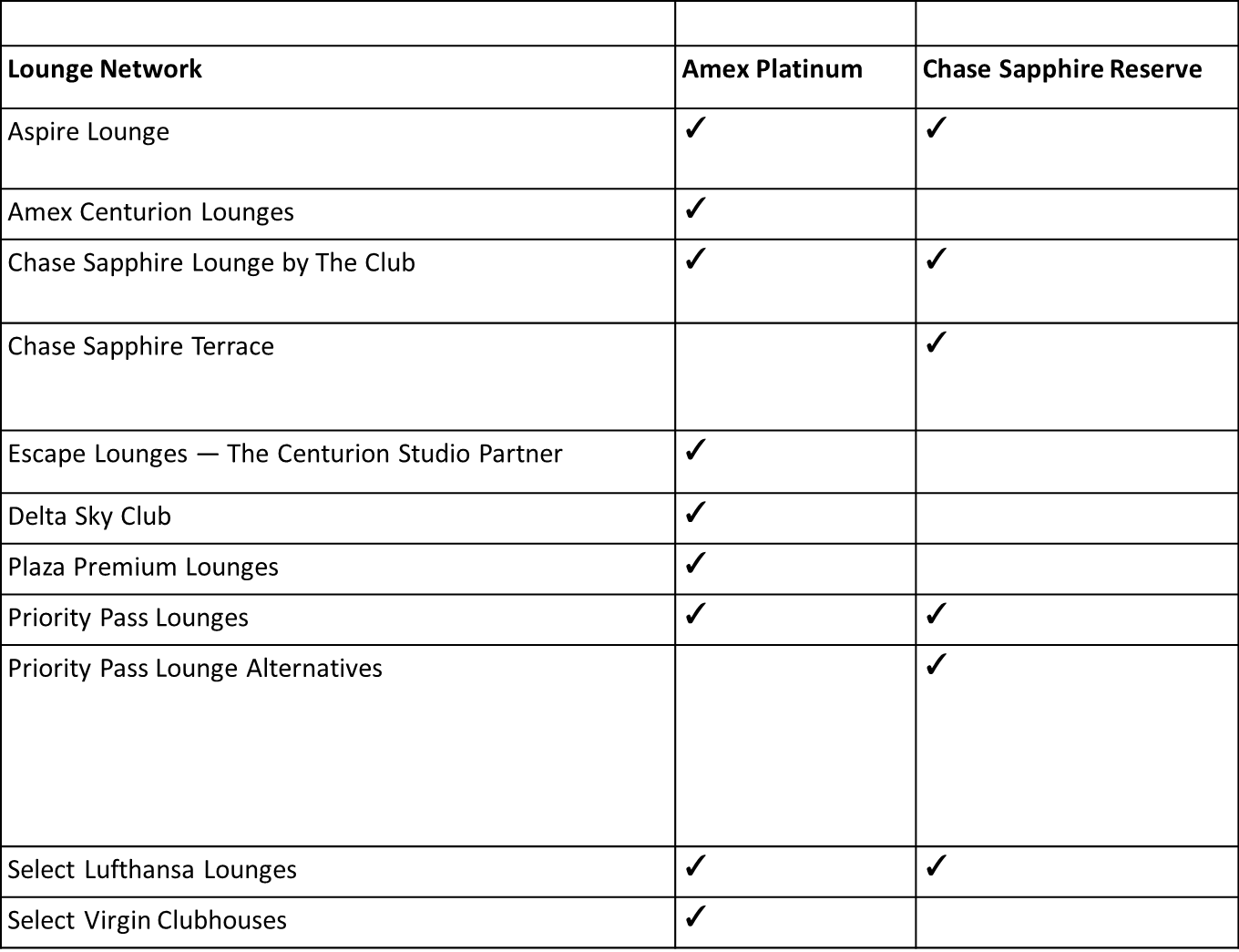 Amex Platinum Card
American Express Amex Platinum card provides access to major airport lounges in the United States and around the world, including the Business Platinum Card. Let's have a look – 
Aspire Lounge – Amex Platinum cardholders can use the Aspire Lounge at San Diego International Airport (SAN) for free snacks, showers, and non-alcoholic beverages. Beer, wine, drinks, and food is available for purchase in the lounge. Upon entry, members receive a $10 food and beverage coupon. They are permitted to bring up to two guests at no additional cost.

Centurion Lounges – Centurion lounges in the United States offer local food, high-speed Wi-Fi, and personal luxuries like spa treatments and showers. Amex Platinum cardholders can visit all 13 lounges in the United States and bring up to two complimentary guests if they spend $75,000 in eligible purchases in a calendar year. To gain entry, cardholders must provide their Amex Platinum card and same-day boarding pass.

Escape Lounges — The Centurion Studio Partner – With 14 new locations, including ones in Fort Lauderdale, Palm Beach, Phoenix, Providence, Reno-Tahoe, and SMF, Escape Lounges is growing. Each site provides a variety of regionally brewed beers as well as food prepared by regional chefs and mixologists. Amex Platinum cardholders can enter any airline's Escape Lounge and bring up to two extra guests and children under the age of 24 without paying a fee.

Delta Sky Club – Delta Sky Clubs offer free premium Wi-Fi, cuisine, snacks, and beverages for Amex Platinum cardholders on Delta trips. For $50 per guest, up to 2 Delta passengers can access most Sky Clubs, including a wide selection of premium alcoholic beverages. This exclusive lounge access is available for Delta passengers on a Delta trip starting with ticket number 006 and extends to Delta Sky Club members.

Plaza Premium Lounges – More than 130 Plaza Premium Lounges can be accessed by Amex Platinum cardholders globally, and the lounge network has left the Priority Pass network. Their same-day boarding pass and Amex Platinum card will allow them to enjoy a less congested journey.

Priority Pass Lounges – Priority Pass, the largest lounge network, offers over 1,300 locations for free access to airport lounge properties with an Amex Platinum credit card. This membership does not include Minute Suites, Be Relax, or Gameway video lounges. To use lounge facilities, users must register online, obtain a membership card, and present their ID, boarding pass, and Priority Pass card or digital card.

Select Lufthansa Lounges – In the United States and abroad, Amex Platinum cardholders have access to Lufthansa Lounges. First-class lounges aren't accessible, although Senator and Lufthansa Business Lounges are. A government-issued ID, an Amex Platinum card, and a same-day boarding permit for Lufthansa, SWISS, or Austrian Airlines are required for entry into 30 of the 50 lounges. For a price, some lounge facilities might accept visitors.

Select Virgin Clubhouses – Virgin Clubhouses provide fashionable décor, delectable food, on-site mixologists, and personal conveniences. Plaza Premium-operated clubhouses are available to Amex Platinum cardholders in Boston, Johannesburg, New York, San Francisco, and Washington, D.C. For entry, they must produce their card and same-day boarding pass, and they may bring up to two visitors.
Chase Sapphire Reserve Card
Chase Sapphire Reserve features a large network of lounges, comprising over 1,300 lounges and alternate properties, which provide value and variation throughout travel. Let's have a look –
Priority Pass Lounges – Priority Pass airport lounge access is available with the Chase Sapphire Reserve and Amex Platinum cards, with the Chase Sapphire Reserve card providing free membership and 2 extra guests. Enrol for Priority Pass Select membership in Chase's online perks area to gain access to 1,300+ airport lounges globally.

Priority Pass Lounge Alternatives – For Chase Sapphire Reserve cardholders, Minute Suites and Relax provide free access to Priority Pass alternative lounge facilities such as airport restaurants, Be Relax spas, and Gameway video game lounges. If you're travelling to an airport that has participating lounges, you're in for a treat. Here's how the alternative lounges Priority Pass benefits work:
Airport Restaurants – Priority Pass Select in the United States provides a range of partner airport eateries for meals and cocktails. Customers can enter these restaurants by presenting their card, Chase Sapphire Reserve card, and boarding pass, with roughly 25 in the United States and 40+ in other countries. Typically, a credit of $28 in food and beverage is applied to the bill, with an additional $28 added if a guest is brought. To ensure a pleasant dining experience, review the terms and conditions prior to visiting a restaurant.

Minute Suites – A Chase Sapphire Reserve Priority Pass Minute Suite provides complimentary access to showers at discounted prices, making it a convenient location for napping, working, and showering while travelling. Showers are accessible at certain places.

Be Relax Spa – At major airports, you can unwind with a relaxing massage. Be Relax provides complimentary spa services at about a dozen different sites, with various durations and visitor rules. Each treatment costs $35 to $40 and is limited to one visitor.

Gameway – Priority Pass cards are accepted at Gameway video lounges at Minute Suites, DFW, and CLT airports for up to 2 hours of complimentary play, cold soda, and refreshments. Charlotte (CLT), Dallas (DFW), and Los Angeles (LAX) airports accept the Chase Sapphire Reserve card.

Chase Sapphire Lounge by The Club – The Club's Chase Sapphire Lounge has one site in Hong Kong (HKG), with plans for further locations like Boston (BOS), Las Vegas (LAS), and New York (LGA).

Sapphire Terrace – With a single debut at Austin-Bergstrom International Airport on March 20, 2023, Chase Sapphire Reserve cardholders and two guests will be able to enjoy Chase Sapphire Terrace locations in Texas.
Comparative Inference
American Express cards do not provide access to Centurion Lounges or Priority Pass restaurants, although Chase cards do. The Chase Sapphire Reserve card provides lounge access advantages and cheaper annual fees, whilst the American Express Platinum card provides the most lounge access with over 1,400 locations. The ideal lounge access card is determined by your priorities, frequency of travel, and card value. As lounges fill up, look for other options before travelling.